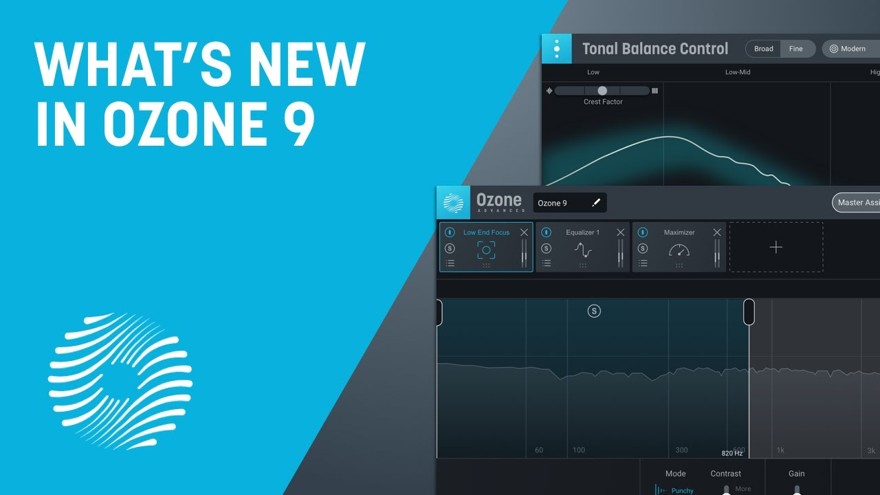 What's New in iZoptope's Ozone 9 - New Features
iZotope introduces Ozone 9, the latest version of its mastering software. Ozone 9 comes with intelligent processing for the low-frequency range, real-time separation, and control of vocals, bass, or drums in the stereo mix and a lot of improvements that use artificial intelligence.
With Master Rebalance you can adjust the volume of vocals, bass or drums in the stereo mix without the need for single tracks or stems. For example, you can raise the vocals without affecting the entire mid-range, or tighten the bass range by just lowering the bass guitar slightly in volume. On the other hand, weak drums can be subtly raised without spending hours with the microscopically accurate setting of an equalizer.
Low-End Focus offers a remedy for a washed-out or undefined bass range. It clears up the low frequencies, brings clarity and forms the foundation of the mix. For example, this feature allows users to tame over-emphasis on bass drums or bass without changing the overall energy of the song.
The improved Master Assistant in Ozone 9 uses Artificial Intelligence to create customized presets in seconds. The new Vintage Mode features automatic presets for the Vintage EQ and the Vintage Limiter, allowing you to quickly add the right amount of color and character to your mix. For this reason, all four vintage processors of the large Advanced version are now available in the standard version. The wizard optimizes the loudness of a mix for streaming or CD, also a reference track can be loaded, and the color and intensity of the own mix will be adjusted.
Ozone 9 is available for $ 199 while the Elements version is available for $ 99. iZotope Ozone 9 Advanced is now available for $ 399.