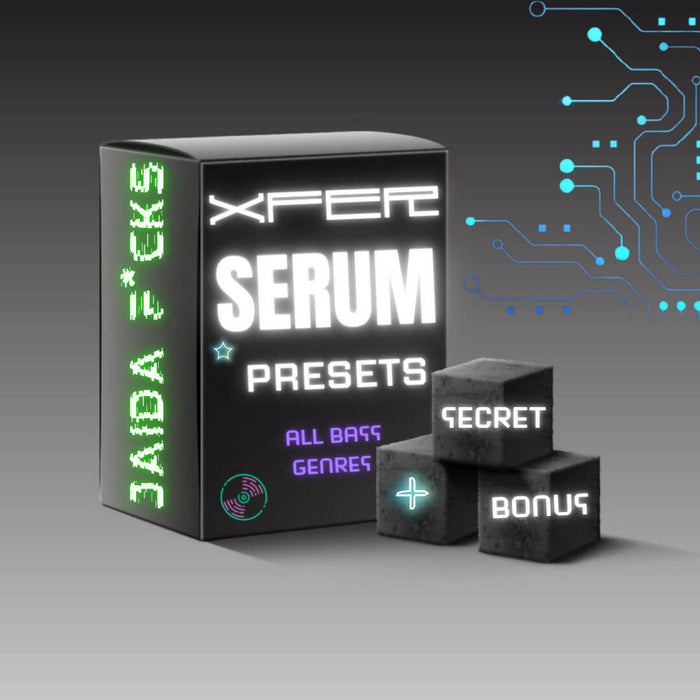 JAIDA F*CKS XFER SERUM PRESETS
Original price
$28.05

-

Original price

$28.05
Presets Xfer Serum for All Bass Genre + Secret Bonus
 
Get ready to take your productions to the next level with this collection of hand-crafted presets, designed specifically for Serum. With a total of 80 presets, you'll have everything you need to bring your tracks to life, from deep, growling basslines to soaring leads and everything in between.
Our pack features 16 expertly designed bass presets, ready to provide the foundation for your next banger. These presets are packed with energy and depth, and are sure to get the crowd moving.
We've also included 12 drum presets, designed to provide the perfect percussive backbone for your tracks. These presets are inspired by the biggest names in the game, and are perfect for laying down the foundation of your beat.
Add some excitement to your tracks with our 14 FX presets. From atmospheres to impacts and risers, these presets will help bring your productions to life and take your tracks to the next level.
Our 3 growls presets will bring some serious power to your basslines, while our 2 808 presets are perfect for adding that classic, punchy bottom end. With 17 lead presets, you'll be able to create soaring, melodic hooks that will keep your listeners engaged.
For those who want to add a touch of organic warmth to their tracks, our 4 machine layer presets are the perfect solution. And, with 2 sub-bass presets, you can add some serious low-end energy to your tracks. Finally, our 4 string presets will provide the perfect finishing touch, adding depth and emotional intensity to your productions.
With this Serum Preset Pack, you'll have everything you need to create cutting-edge electronic dance music, whether you're a seasoned producer or just starting out. So what are you waiting for? Get yours today and elevate your productions to the next level!

+ Secret Bonus!!

***Presets for Tearout, Dubstep, Drum & Bass, Hybrid Trap e Bass House!***

****Basses, Drums, Leads, Growls, 808, Machine Layered, Plucks, Sub Basses, Strings, Effects and Bonus****
The whole bonus folder was made with this kit Preset!!:D

https://soundcloud.com/jaidafucksthebeat/jaida-f-cks-x-fer-serum